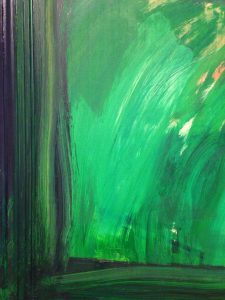 Several years ago, I did a talk for a local GLBT advocacy group. I stood at the front of a large meeting room and talked about discrimination and ignorance, the need for education. A topic I lectured on every week in my classes. But in the middle of my presentation, not one, but two bullies, from two different parts of my life, strode in together and stood at the back of the audience – both of them tall with chins held high, both having exploited my trust, attacked my reputation, and interfered in my relationships.
I choked.
My throat like sandpaper, my oxygen disappeared. My speech evaporated into meaningless dry word-strings. I cut it short because I couldn't inhale and I slumped into a chair on the front row. Later, a student of mine came over to (I suppose) be friendly and said, "Not a public speaker, are you? Me either." I wanted to slap him. I wanted to explain how Broca's area shuts down in the presence of danger . . . but that part of my brain was still frozen in (irrational) fear.
From that moment forward, I used the words Bully and Narcissist interchangeably, because they're almost synonymous.
A world full of narcissists?
It seems like it these days. And the more grandiose the bully, the more apparently successful in this world. If she lacks conscience, she can bend the truth to create alternate planes of reality that favor her. Lacking empathy, he can use people, make them feel inferior and in need of him. Our narcissism epidemic springs from widespread attachment trauma, early childhood neglect, and the indulgent, self-absorbed elements of our capitalist culture.
We all deal with narcissism, ours or someone else's. Some looks obvious: inflated ego, meanness if you stand up to them, destruction toward other people's work and relationships. But a lot of narcissism happens covertly as emotional sabotage.
I grew up around lots of unwitting bullies. In my family's fundamentalist religious group, boys had too much power over girls. They learned, from their fathers, to dominate. Families passed down traumatic attachments through the generations. And the combination of sexist dogma with early emotional deprivation made these men very afraid of sharing power with women. They abused, gaslighted, and made women feel ashamed of their bodies and sexuality.
I grew up primed to be bullied by a narcissist. Now, with distance from the fundamentalism and the bullying, I see narcissistic patterns in every part of our society.
More than ever, we need to notice bullies for what they do to us. We need awareness of how we're being manipulated to feel fear and shame.
Who's Your Narcissist?
Who makes you nervous? Who do you dread? Who triggers all your feelings of inadequacy, unattractiveness, and insignificance? Who do you over-admire? Who seems so cool and smart you could never be good enough for them? Maybe a leader. Maybe someone who's made your work miserable. Maybe someone close who drains you, leaves you lonely and confused with each contact. Maybe someone you love.
Narcissistic people try to silence us. They overpower with bluster, triangle themselves in our friendships, and invalidate our thoughts. Narcissistic people don't always look like criminals. Sometimes they look like our parents or neighbors.
You need a way to differentiate from the narcissist, become more you (less apologetic, less nervous, less someone else). With narcissistic people, you need a way to stay grounded and know who you are.
Consider a radical act: Get calm in the presence of your narcissist.
The disobedience of calming helps you become more you, not so compliant or ashamed, not so easily manipulated.
You already do yoga. You meditate. You tap. You have a mental calming place . . . a mountain cabin, a treehouse, a hammock. You take deep breaths and exhale slowly. You think of your most trusted friend.
Try this . . .
Think of your calm place now. Breathe.
Notice what happens in your body when you think of your favorite chair, your yoga mat, your run.
Notice the center point of stillness as your body-mind slows down.
Now, imagine having this calming process while in the presence of your narcissist. Allow that person to do whatever they do, to be agitated or aggressive (they are always more anxious than you), while you stay still at the center.
Just notice everything. Watch with curiosity. Come back to your breath.
Affirm yourself: I can leave if I want to; I have my own thoughts and feelings; I can keep myself safe.
If you notice guilt, pressure, or anxiety, just acknowledge it and let it slide away from you.
Now write for 10 minutes about this exercise. What do you notice about yourself? What is it like to get still and focused on your inner calm while the narcissistic person is there, doing whatever they do?
This exercise will not solve the entire problem of being bullied or dominated, but it will help you start seeing differently. It may even help you regain something you lost (like, um, your voice).
[dacta]
[dacta url="http://www.amazon.com/Wife-Material-Novel-Misbehavior-Freedom-ebook/dp/B014VP2SXQ" text="Read Wife Material"]