See the Sacred: Let it Calm You
Last Sunday, our priest, Father Kenneth Chumbley, mentioned the most recent shootings in Louisiana. He admitted this event, with the others like it in recent history, make him afraid for his family's safety. Then he spoke of reasons we can trust and relax, anyway.
If I think of gun violence, especially in schools, my stomach tightens and I notice a green wash of nausea that makes it hard to see things clearly. In this compromised state, I check my bolded email inbox, but cannot decipher enough about the clot of messages to delete or refile or open. I waste six minutes, staring, overwhelmed. I brush my dog away. I can't see.
How do we see what is lovely and holy when money is tight, when a hundred urgent messages await, when our neighbors suffer and cause suffering? How do we relax our minds and bodies enough to notice the miraculous love and beauty that surrounds us, right now?
What love and beauty? you say.
Ah, you're afraid.
I'm no theologian, but I know that most mayhem is out of our direct control as we seek spiritual development. So, if that's true, how do we live in a state of calm, thankful, creativity? So we can see and create and breathe?
Try this experiment.
Turn off the TV, the computer, the smart-phone.
Take several deep breaths.
Go look out the window: notice something lovely, even if you have to draw your eyes above roof-lines and power-lines, to the sky or to the ground or the street to a small patch of green growth, a praying mantis on a ledge, a cloud, a yawning cat, a shaft of sunlight.
Get a pen and paper. Write a sentence about what you see.
List ten things for which you are thankful.
Go back to the window and look again.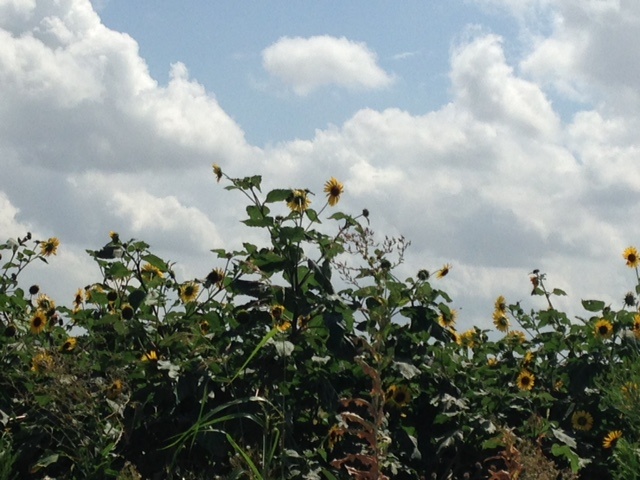 What do you notice this time? How do you feel?
Eckhart Tolle suggests studying the palm of your hand to get in touch with the wonder of your body, the place we call home for a while…to know that no matter what else is happening in the world, we are right here with these opposable thumbs!
When I do the hand exercise…
I see how well things work…things made for me.
I see the many uses of this one body part: a cup, a ruler, a pincher, a stroker, a paintbrush, a sunshade, a signaler, a grabber, a writing machine, a sensor of textures, a grocery bag hook…..
I see how it bends and flexes and expands and contracts in all the right places and to just the right degrees.
I understand that this remarkable, spongy, strong multi-tool was made to help me get by here. To help me do lovely things – even defend myself.
This tells me that All is in Divine Order. I can breathe. Everything is going to be okay.
For more about losing my religion and healthy rebellion, visit these posts:
[dacta]