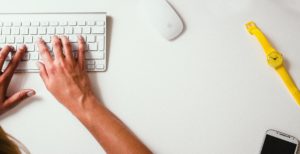 Doing telemedicine gives me a view into my clients' homes. Too often, I see people neglecting the home office and treating it like a storage closet for every odd thing with no designated spot. But working from home in the days of COVID-19, we need a just-right space where we can think our best thoughts. The beauty of your work environment sets the tone for everything you do there. Your space reflects your intentions. So let's get you ready to settle in and create.
Step 1: Container Magic
Find containers you like and put EVERYTHING into them. These containers should be beautiful – and can be made of any material except plastic. Examples include . . .
jute baskets, clay pots or planters, wire bins,
clear lucite boxes, glass jars, wood boxes,
felt envelopes, kitchen canisters, burlap sacks,
clipboards, shopping bags, tote bags, paint cans,
old mail bins/sorters, vintage drawers . . .
Avoid plastic bins (which communicate "I'm temporary – unsure"). Instead, let yourself choose a set of something that pleases your eye, preferably something you can upcycle or find on the cheap. You can paint these items, cover them in fabric or wallpaper, or leave them raw, just as you found them.
Place objects from your room into these containers. Notice how you naturally group them. Let that natural organization guide you. This sorting process creates your SYSTEM and it only works if you do it yourself. Nobody but you will think the way you think about your files, your paints, your videos, your paper clips . . .
Then, think about where these containers of stuff should be displayed. Do you need shelves for them? Do the containers need their own special hooks to hang on the wall? Can your containers be hung directly with screws?
If you have fun with this first step, the rest of your home-office makeover will flow organically. I get inspired by baskets made with fabric twine and tassels. This one makes me want to use green paint and open shelves that appear to float on the wall.
Step 2: Fresh, Clean Color
Paint the walls of your home office or studio a fresh color, which could be white. Look at your containers for inspiration . . . unless they're brown! If you have a neutral tan or beige on your walls, consider changing to a color that evokes new beginnings. There's no right or wrong here, but grays and browns tend to lower energy, which is the opposite of what we want to feel in our home office.
If you feel timid about new colors, paint one wall a vibrant shade – and paint the other walls white. Painting not only gives the room an inexpensive facelift, it forces you to clean/dust the whole space thoroughly.
Step 3: Create a Work-Surface
You may not want an actual desk, but you probably need some kind of work surface. I like bistro tables and a couple of mismatched chairs. You might prefer a custom standing desk, anchored to a wall. If you have a desk, does it suit you? Is it large enough? Too bulky? Does it feel comfortable to use? Are you constantly banging a kneecap on it when you get up and down?
We usually work better if we can change positions many times throughout the day, sitting on the floor with a laptop or stretching out on a loveseat with a lap desk or clipboard. If you don't already have a table or desk, look at what you have in other parts of your house. Can you repurpose an old cabinet and top it with a vintage door? Bring in a patio table? Do you need an art easel?
Step 4: Art & Arrangement
Turn on some jazz and don't overthink this part. Just put things where it feels comfortable for now. Arrange your containers either in shelves or on the wall. Place your work surface in a spot that allows the energy to flow into the room, around the room, and out of the room. Keep pathways clear. Stand at the entrance to the room and see how you feel with the placement. You'll want to be able to look into the room and instantly feel invited to sit somewhere, do something. The first view into your office should cue you to exactly what you want to do when you get inside.
Now, what one beautiful thing should you add? What vivid color seems missing? What shapes would make you happy in here? You may already own a piece of art you could hang in a very prominent place in your office. But if not, you can always create one! To get ideas or even find art for purchase, visit Pinterest or Etsy and simply search: art, paintings, watercolor, prints . . . and notice the things that catch your eye.
Remember, you want to be able to stand in the doorway and immediately see the art. So find something (or make something) that draws you in there, makes you feel warm and loved and energized.
Step 5: Edit, Edit, Edit
Now, time to tweak! Most of the time, less is more. What things in your room can you happily discard? What do you actually use? Shed anything that's outdated, unnecessary, ugly, or irrelevant. (See my blog about letting go of guilt too.). This casting-off allows room for new energy, new ideas, and new opportunities. It really works and it really matters.
Then, look at your arrangement and notice anything that needs adjusting. Things to consider here:
Energy Flow
Ease of Access
Light
And speaking of light, do you have enough? Ideally, you want a balance of natural and artificial light – and a balance of up-lights and down-lights. I love vintagey floor lamps that can be focused in different directions (this is my own home office studio spot). Pair them with a unique pendant and table lamps for soft brightness in a corner or on top of a bookshelf.
Finally, just remember, your home office should feel good. It's your creative oasis that invites you to stay for awhile and think new thoughts. Let it be like you: beautiful, colorful, and full of deep comfort.
Deborah Cox, psychologist & consultant
Beyond Creative Health, 1147 E. Walnut, Springfield, MO 65806